Padre Pio Relic Shrine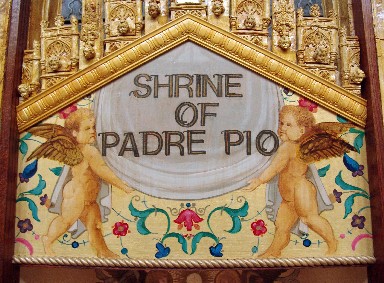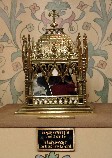 In the early part of the winter in the year 1999, a fax was recieved from the Postulator for the Cause of Padre Pio's Canonization in Rome, telling all the Capuchin Franciscans that a miracle had been approved which would allow Padre Pio to be named a Blessed. The news was received with great joy here at St. John's.
The Friars here have always held Saint Padre Pio in great esteem and have always his Prayer Groups. The Friars and his spiritual childrenprayed for this day. Within days a commitee was formed on how to celebrate this great event.
It was decided that with Padre Pio being made a Blessed, public devotion could begin which meant his image and relics could be brought into the Church. After many meetings and consultations with Church decorators, it was decided that a permanent Shrine be set up to display Blessed Pio's image and two from the many special relics of this holy friar which are here at St. John's.
The relics that were chosen to be used were to be placed in gothic style reliquaries made in the late 1800's. One was to hold the brown fingerless woolen glove of Blessed Pio; the other to contain the white linen sock, which has the stains of his blood.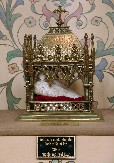 The other reliquaries which are displayed on Blessed Pio's feast day and other special occasions, are in the same style as the others. They contain crystal cruets, his fountain pen and a photo of Blessed Pio with him writing with the same pen. On the backside of the photo is a Christmas Greeting written by his own hand.
One of the reliquaries contains a cloth used to absorb the blood from the sacred stigmata, which still bears the stain. Other reliquaries are the holders of the first class relics. These are used in veneration and blessings, one contains the scab of the stigmata, and the other some of his hair.
These relics came to St. John's through Mary Pile, Padre Pio's friend and secretary. The relics were given to Fr. Armand Dasseville, OFM, Cap. It was the vision and grace that St. John's Church served by the Capuchin Franciscans should be a center for devotion to Saint Pio of Pietrelcina.

A St. Pio Prayer Card is available and will be mailed to you by writing to St. John's Church (Prayer Card), 213 West 30th Street, New York, NY, 10001. Your name and address will be added to the St. John's Church Sweepstakes mailings and will not be shared with any other institution or marketing company.